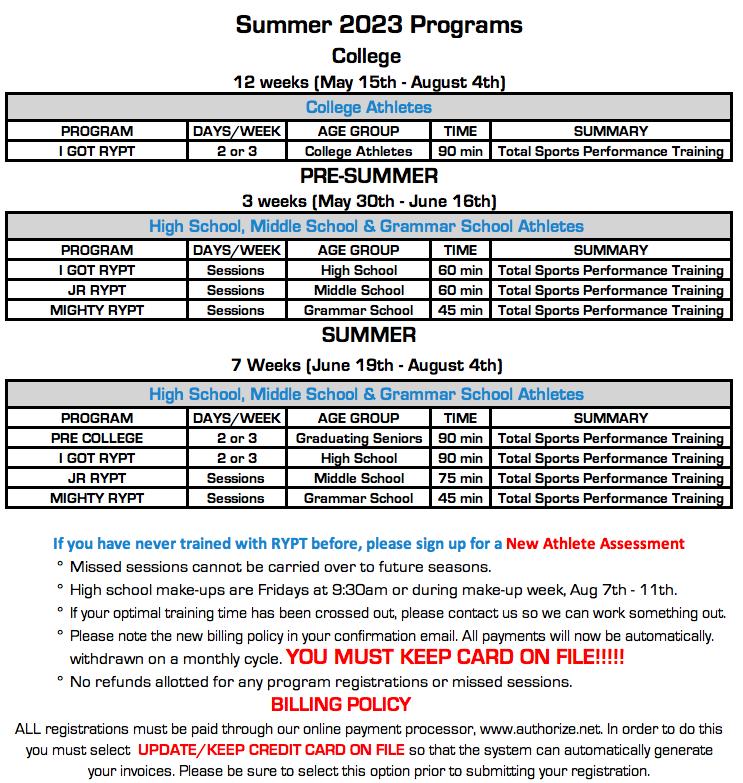 Pre-Summer Middle School JR RYPT (Unlimited Sessions)
J
JR RYPT - Pre-Season Sessions
Thinking of starting your middle school athlete in a sports performance program?
Looking to gain an inside edge on speed, strength and conditioning?
Check out our JR RYPT program, designed exclusively for middle school athletes (6th-8th grade).
During this Pre-Season, 3-week session we offer 6-session or Unlimited-session packages.  Sessions are 60-minutes long and class times are posted on the website.

During our Fall/Winter/Spring and Summer Seasons, we offer a one or two-day a week program for 75-minutes and focus on the foundational elements of a quality performance program including:
Bodyweight strength mastery
Athletic positioning
Balance & coordination
1st step quickness and lateral/multi-directional movement
Jumping and landing mechanics
Conditioning and recovery techniques
These years are the most important when setting a base for future success in sport. Don't rush it!
Call us today to set-up your athlete or team with a proper and progressive training program to maximize athletic performance and reduce the risk of future injury!
Start Early. Start Right. Start with RYPT!