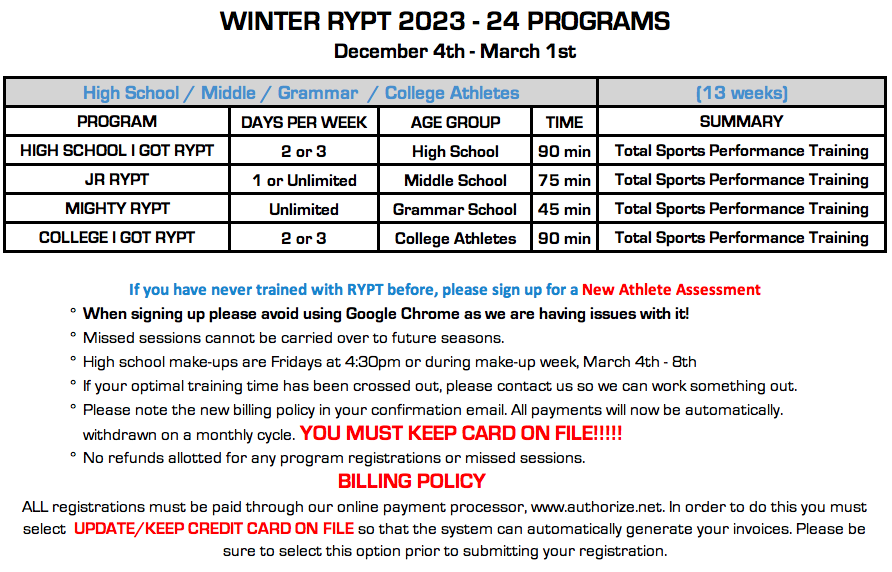 High School I GOT RYPT-2 - ADD a 3rd Day for $99 (M/W + F) Friday's at 4:00
HS / COLLEGE I GOT RYPT 

First Step Quickness
Breakaway Speed
Change of Direction
Power and Strength
Mobility and Flexibility
Check out our I GOT RYPT program, designed exclusively for high school and college athletes. Focusing on self-esteem, mental strength and physical dominance, the I GOT RYPT program is the foundational package for high school athletes.
Programs are offered either in 2, 3 or 4 day per week sessions and are 90-minutes in length. Each program focuses on the following:
Our two day program,

I GOT RYPT-2

 is our most popular program amongst active or off-season athletes. (Monday/Wednesday or Tuesday/Thursday)
Our three day program, I GOT RYPT-3 is recommended for more advanced athletes or those who are not participating in any other activity during the period besides RYPT. (Monday/Wednesday/Friday or Tuesday/Thursday/Friday)
Our four day program, I GOT RYPT-4 is the ultimate sports performance program reserved for graduating high school seniors and college athletes. I GOT RYPT-4 is reserved for the summer training periods only. (Monday-Thursday)
 STAY RYPT
The STAY RYPT program is the optimal training package for all IN-SEASON athletes who wish to maintain and build upon their off-season "I GOT RYPT" training or competitive athletes who only need to focus on their strength and power. This package does not include any speed, agility or conditioning. This is strictly a power/strength/mobility only program.

The STAY RYPT program is offered two-four times per week allowing flexibility for athletes to participate based on their practice and competition schedule. Sessions are 60-minutes each.
I GOT SPEED
The I GOT SPEED program includes speed, agility, multi-directional movement training, jumping and general/sport specific conditioning for today's high school football or lacrosse player. This program is reserved for high school athletes who strength train at school throughout the year and need to add an extra edge of movement and speed to their performance arsenal.
Trainings days are usually Tuesday/Thursday with each training session lasting 60-minutes.