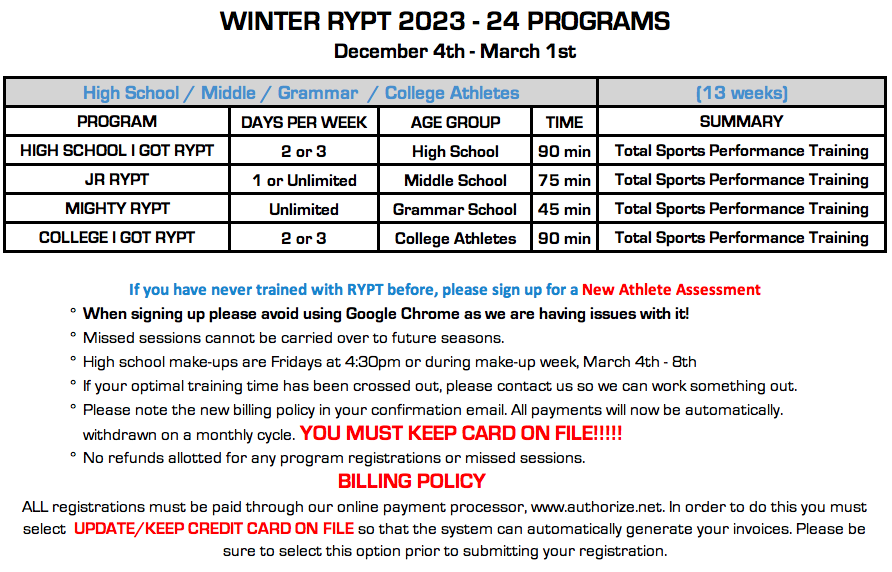 MIGHTY RYPT - Unlimited Sessions (Monday/Wednesday)
MIGHTY RYPT
Looking to get your 7-11 year old started in fitness?
Want to get on the RIGHT track, right away?
Check out our MIGHTY RYPT program, designed exclusively for grammar school athletes, 7-11 years old. This one-day a week, 45 minutes each day program focuses on the foundational elements of a beginner's performance program.
Athletes are playing sports younger and younger each year. And with the cost of multiple teams, tournaments and showcases, comes a cost of overuse to the body.
We want to make sure that we develop a great foundation of fitness and skills early on to prevent issues as they get older. Plus, this is the BEST time to teach the necessary skills to run fast, jump high and control their bodies before they hit a growth spurt in their pre-teen years.
We also want them to have a great time doing it!
Our MIGHTY RYPT classes focus on:
Bodyweight mastery, especially the athletic position

First step quickness and breakaway speed

Agility and change of direction skills and

Most importantly, HAVING FUN!
There is no actual weight training in MIGHTY RYPT. Everything will be done with the resistance of body weight, medicine balls and/or resistance bands.
You have the option of coming either:
Monday OR Wednesday for one day per week.
Please state which day you prefer in the comments section when you sign up, however you have flexibility to attend either day each week.
Start Early. Start Right. Start with RYPT!